About Us
When hungry diners in Marion want great pizza, pasta, and more, they come to Marion Dial A Pizza. We offer a simply huge selection of traditional and specialty pizzas as well as pasta, sides, ribs and wings. Our meal deals are an excellent option for family pizza night or for a large gathering. Of course, we have plenty of individual pizzas to choose from such as Caveman, Meat Lovers, Feta Secret, and Yiros Pizza. If you like pasta, you'll want to sample our lasagna or Spaghetti Bolognese. Take advantage of our speedy delivery and collection services by ordering online. Come and visit us at Marion Dial A Pizza any time.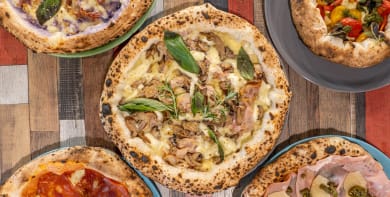 Contact Us
Find Us
728 Marion rd, Marion, 5043
Opening Hours
Tuesday
5:00 PM - 10:00 PM
Wednesday
5:00 PM - 10:00 PM
Thursday
5:00 PM - 10:00 PM
Friday
5:00 PM - 10:00 PM
Saturday
5:00 PM - 10:00 PM
Sunday
4:30 PM - 10:00 PM
Please note, delivery times may vary.
We deliver to
5037 Glandore, 5037 Kurralta Park, 5037 North Plympton, 5038 Camden Park, 5038 Plympton, 5038 Plympton Park, 5038 South Plympton, 5039 Edwardstown, 5039 Melrose Park, 5040 Novar Gardens, 5042 Bedford Park, 5042 Clovelly Park, 5042 Pasadena, 5042 St Marys, 5043 Ascot Park, 5043 Marion, 5043 Mitchell Park, 5043 Morphettville, 5043 Park Holme, 5044 Glengowrie, 5044 Somerton Park, 5045 Glenelg, 5045 Glenelg East, 5045 Glenelg North, 5045 Glenelg South, 5046 Oaklands Park, 5046 Warradale, 5047 Darlington, 5047 Seacombe Gardens, 5047 Seacombe Heights, 5047 Sturt, 5048 Brighton, 5048 Dover Gardens, 5048 Hove, 5048 North Brighton, 5048 South Brighton, 5049 Seacliff, 5049 Seacliff Park, 5049 Seaview Downs, 5050 Bellevue Heights, 5050 Eden Hills